USSD mobile solutions
USSD is a cost effective, and easy way of communicating with your customers. What's more, is that it works on all devices, not only feature phones and smart phones.
How does USSD work?
Have you ever topped up airtime on your phone by dialling a short code like *12345#?  That is done through USSD.
USSD Customer surveys
By using our USSD survey tool, you can build and maintain your own customer survey menus with the click of a button, no development or integration is required.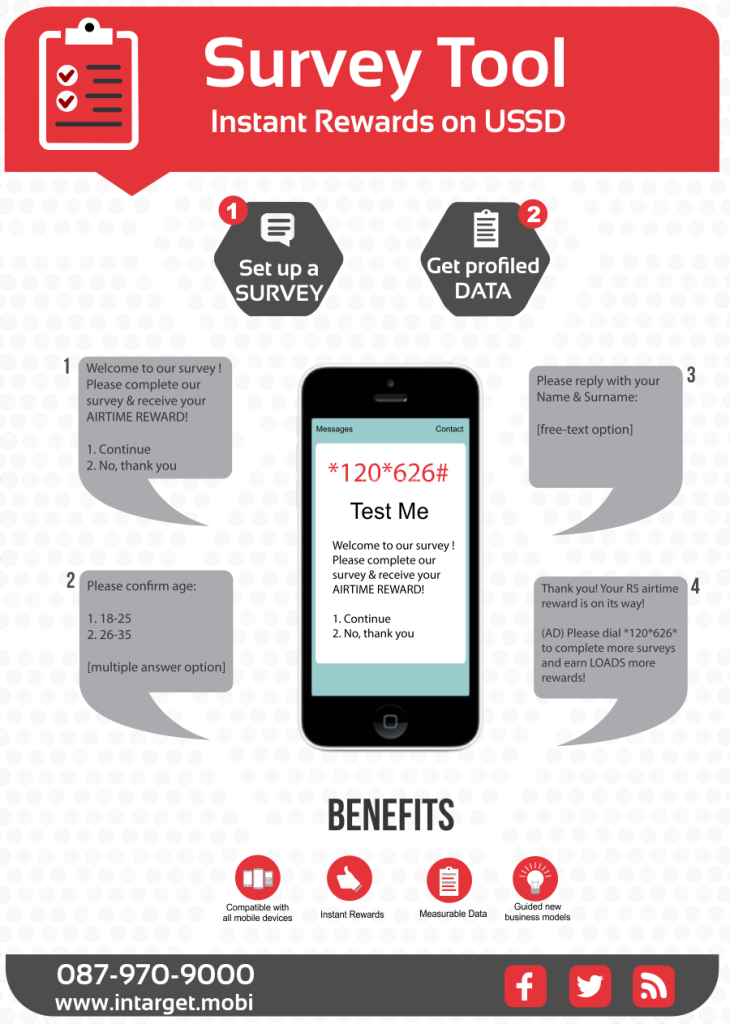 Start communicating with your customers today, with our unique USSD customer survey tools
What else can USSD be used for?
Mobile Operators offering "pay as you go" services can make use of USSD to allow their customers to check their airtime balance, ask for phone settings or top up their airtime. Financial institutions like banks let their customers do banking, balance checks etc. via their mobile phone.
Information providers can generate weather forecasts, traffic, news, geo-location services, directory services etc. Educators can even send links to students so they can view educational material or classroom notes – thus creating a new method of long distance learning.
Customers looking for entertainment can easily subscribe to mobile games or the latest sport highlights.
Lifestyle services such as dating and horoscopes are also done through USSD.
You can run polls or do other forms of research to encourage customer participation.
To find out more about our USSD solutions, please contact us
Find out more about mobile advertising
We help businesses, organisations and individuals from all over Africa and the Middle East with their mobile marketing. We would love to talk to you. Contact us today to find out more about our mobile advertising solutions.
more